Start the content
About Us
Academic background
Creating a new field of gold chemistry through collaboration with different fields: Global research frontier for gold nanoparticles and clusters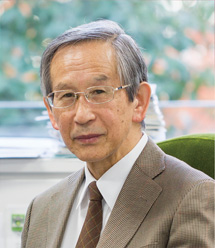 Research adviser of Research Center
for Gold Chemistry,
Emeritus Professor
Masatake HARUTA, Ph. D.
Gold was considered to be chemically inert until the end of 20th century. However, research spanning more than 30 years by emeritus Professor Haruta, research adviser of the Research Center for Gold Chemistry, has proved that gold has a rich catalytic function. This Center was established with the aim of broadening the scope of research from catalysis to the new chemistry of gold.
Our work is focused on gold nanoparticles and gold clusters, which are applicable to medical diagnosis and treatment. We are also aiming at the creation of green chemistry, which is a pressing issue for modern chemical industry.
The following can be raised as the center's main research themes: [1] three-dimensional structural analysis of gold clusters and surface chemistry characteristics; [2] simple chemistry that does not produce side products and / or use resources / energy efficiently; [3] the synergistic effects of gold nanoparticle catalysts, which are artificial catalysts, and enzymes, which are biocatalysts; and [4] the pharmacological action of gold nanoparticles and clusters and their application to the synthesis of medicines without side effects.
A two-story building for this research center was constructed in March 2014. Leading gold chemistry researchers from around the world gathered at the Gold International Workshop held at TMU in May in the same year. We could make the center widely known around the world as a research base for gold chemistry and we are encouraged to lead the world in drawing a comprehensive picture of the chemistry of gold.
Innovative features of the Center
A research center focused on the chemistry of gold is unparalleled anywhere in the world. In particular, the attempts aimed at the creation of new functions by combining gold and biotechnology, which this research center is carrying out ahead of the world, are unique and highly creative.
The academic papers of Professor Haruta, research adviser of the research center, who discovered the catalytic function of gold nanoparticles and has aimed at creation of new chemistry of gold clusters (particle diameter smaller than 2 nm, less than 200 atoms), boast an incomparable record of citation figures in global academic literature databases, ranking in the top 0.1% for all science areas, and in the top 0.05% of all chemistry areas. In 2012, Professor Haruta was selected as the Thomson Reuters Citation Laureate, which has produced many Nobel Prize winners.
Furthermore, by promoting collaboration with researchers and research institutions in different areas both in Japan and overseas, the center is building a formation to enable development in a wider range of fields. In particular, Professor Haruta, has launched a Gold Catalyst Research Center at Dalian Institute of Chemical Physics and is serving concurrently as director of that center, too. With this and other efforts, we are building a close collaborative framework and promoting leading research while also competing in cutting-edge research areas.
The Center's vision for the future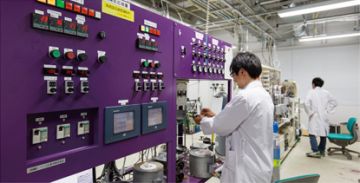 One of the cores of the research center will be interdisciplinary R&D on advanced medical technology and nanomedicine based on nanotechnologies with disciplines such as medicine, life sciences, and biology. In particular, we will aim at the development of anticancer agents without side-effects by the utilization of gold as one of our targets and will promote research on the effects of gold on the human body jointly with INSERM-Paris Est Creteil University.
In addition, Tokyo Metropolitan University launched "Haruta Gold Incorporated" as a venture company through the collaboration with this research center and started providing samples for use in research on gold nano-catalysts. The company is manufacturing high quality gold nanoparticle catalysts with confirmed diameters of gold nanoparticles and catalytic property data were also attached. A system to make and receive orders has constructed over the internet. It is already selling reference gold catalysts supported on difference kinds of the supports to a lot of universities, research institutions and companies all over the world.
This research center will collaborate with other international research institutions and university venture companies to construct a framework for returning the results of its research to society. We would also like to solidify our international position as a more creative and advanced gold chemistry research base and to pioneer the new area of gold chemistry.